Starts from USD2075 per person
Insight Vacations: Autumn, Winter & Spring Sale
Discover the Magic of the Seasons!
Request a Quote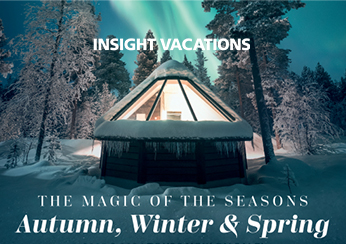 Discover the Magic of the Seasons!
Discover the best-kept secret in travel – our Autumn, Winter, and Spring collection. Exceptional value and the magic of the seasons await on premium guided tours in a variety of destinations.
From the winter enchantment of the northern lights in Iceland and the Christmas markets of Europe, to the pure beauty of milder temperatures in Spain, Turkey, and Egypt, now is the time to plan your future getaway.
Wherever you choose, a premium guided tour with Insight means stylish hotels, delicious dining, and your Travel Director taking care of all the details.
Save 10% on departures from 1 October 2022 to 31 March 2023 on selected tours when you book between 21 June 2022 to 15 September 2022.
WHY GO GUIDED?
Now is the Time to Take a Premium Guided Tour
As we return to travel, now more than ever, going guided takes away the complexities and unknowns, with the many benefits adding up to a seamless, enjoyable experience from start to finish. A guided vacation is a great choice but choosing a premium guided tour makes all the difference.
SEAMLESS TRAVEL - Everything is taken care of so you can simply relax
TRAVEL IN STYLE - Great value at the quality you expect
PRIORITY ACCESS - Less time waiting, more time enjoying
BEYOND SIGHTSEEING - Come away enriched and informed
SMALLER GROUPS - Maximize your time
WE ARE COMMITTED TO YOUR WELL-BEING
ALWAYS-ON SUPPORT TEAM
Expertly Trained Travel Director - Your Travel Director has been trained in enhanced hygiene and distancing standards. Supported by your Well-Being Director, they will monitor compliance and guest well-being.
Diligent Driver - Your driver has been trained to ensure your transportation and luggage is hygienically managed, so you can travel hassle-free. They'll get you from one destination to the next with ease and sanitize all coach surfaces throughout your tour.
Well-Being Director - A dedicated Well-Being Director, with the latest health authority and local government guidelines, will be available on all tours of more than 20 guests. They will ensure daily adherence to all well-being protocols and always be available to support guests.* This includes facilitating any mandatory COVID related testing with as little impact as possible to our guest experience.
Global Around-the-clock Support Team - In addition to your dedicated on the road team, our operations and guest support teams remain available behind the scenes, in contact and on call 24/7.
HYGIENE PROTOCOLS & DISTANCING
Smaller Groups, More Personal Space - With our smaller groups and uniquely reconfigured coaches with fewer seats, you benefit from more personal space.
Air Filters - Air within the coach is completely filtered and changed on average every 2 to 3 minutes, faster than most hospital operating theaters, which is mandated at 3 to 4 minutes. Our air filtration system is designed to create an efficient vertical and safe airflow that helps ensure impurities, like Covid aerosols, are not spread.
Quality Assurance - Your Well-Being Director is responsible for the quality assurance of all hotels, restaurants and other venues you visit during each journey. Quality checks will ensure that all travel partners meet local regulations and the established TTC, WTTC and WHO well-being protocols.
Hygiene Equipment - Hand sanitizer is accessible and freely available. We ask that you bring your own medical face mask as in some destinations it may be compulsory to wear a mask in certain settings or in public places. Your international carrier, departure airport or a transit airport may require that you wear a face mask, please check the requirements with your airline. Please note that airlines and other establishments may not accept washable cloth masks but only medical masks. On tour, in the case of emergency, personal protective equipment will be distributed to you.
Sanitized Surfaces - All frequently touched surfaces inside your coach — including handrails, doors, tables, overhead lockers — plus your luggage handles, will be disinfected multiple times each day.
Priority Access - Skip the lines with priority access at landmark sites.
24/7 INCIDENT RESPONSE
Always Up To Date - Our teams are always up to date and continue to adjust to the changing regulations from health authorities and local governments. They make changes behind the scenes so you are able to enjoy your tour.
Incident Response Protocol - Should an incident arise on tour, rest assured that we have protocols in place. We will direct distancing and coordinate with local medical support and testing. We will liaise with local authorities to follow directives, which will vary across countries, and support you every step of the way.
DISCOVER OUR SEASONAL FAVOURITES
09 Days | Alpine Christmas Markets
09 Days | Amazing Spain & Portugal
11 Days | Best of Italy
11 Days | Best of Britain
15 Days | Best of Spain & Portugal
08 Days | Christmas Markets of Austria & Bavaria
08 Days | Christmas Markets of Austria, Croatia & Slovenia
13 Days | Christmas Markets of Central Europe
08 Days | Christmas Markets of Germany
08 Days | Christmas Markets of Poland, Prague & Germany
10 Days | Easy Pace Budapest, Vienna & Prague
10 Days | Easy Pace Italy
09 Days | Highlights of Spain
07 Days | Magical Switzerland
10 Days | Northern Lights of Scandinavia
07 Days | Scenic Iceland & Northern Lights
12 Days | Splendours of Egypt
09 Days | Winter Wonderland
09 Days | Wonders of Egypt
11 Days | Wonders of Turkey
TERMS AND CONDITIONS
Save 10% per person on the land portion of Insight Vacation's European winter vacations, departing from 1 October 2022 until 31 March 2023.
Valid for new bookings only made between 21 June 2022 and 15 September 2022.

Full payment is required 90 days prior to departure, or by the full payment date as indicated in the standard booking conditions, whichever comes first.

If guests change to another trip or date that is not on sale, they are responsible to pay the difference and adhere to different payment conditions.

Savings are subject to availability and may be withdrawn at any time without notice.

May be combined with 5% CBV Past Guest discount only, not combinable with any other discount or promotion.

Other conditions may apply.
For inquiries, please contact our Leisure Team through:
You may also message us through
Facebook
.